Black Friday and Cyber Monday week: 8 days that ramp up the economy
Consumer complaints usually mention too low discounts and lack of attractive products on sale;
Pandemic and unstable situation in the labour market may cool off the interest of some shoppers;
CyberMonday.Global analytics examined historical statistics about worldwide sales — Black Friday and Cyber Monday — and prepared a prognosis for 2023.
Trends in the last 10 years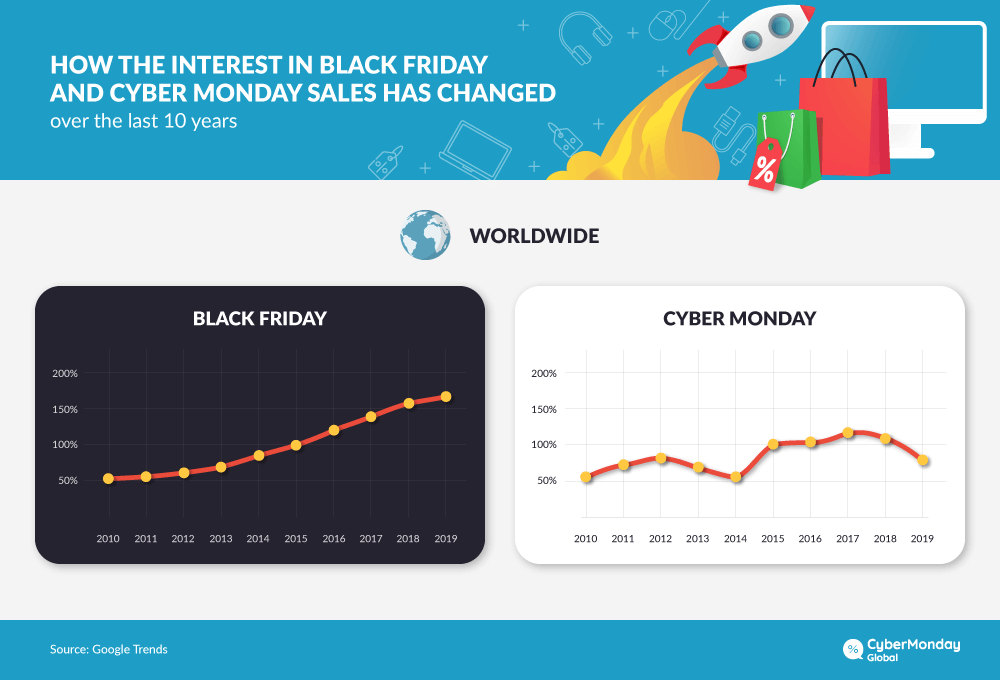 With a help of Google Trends, we verified the popularity of Black Friday and Cyber Monday sales in time, both globally and in the United States.
For ten years, the interest in Black Friday sales steadily increased. In comparison with Black Friday, Cyber Monday was marginalised in the last two years, probably because Black Friday's time frame became blurry — it is not confined to Friday anymore.
How do sales increase on Black Friday and on Cyber Monday?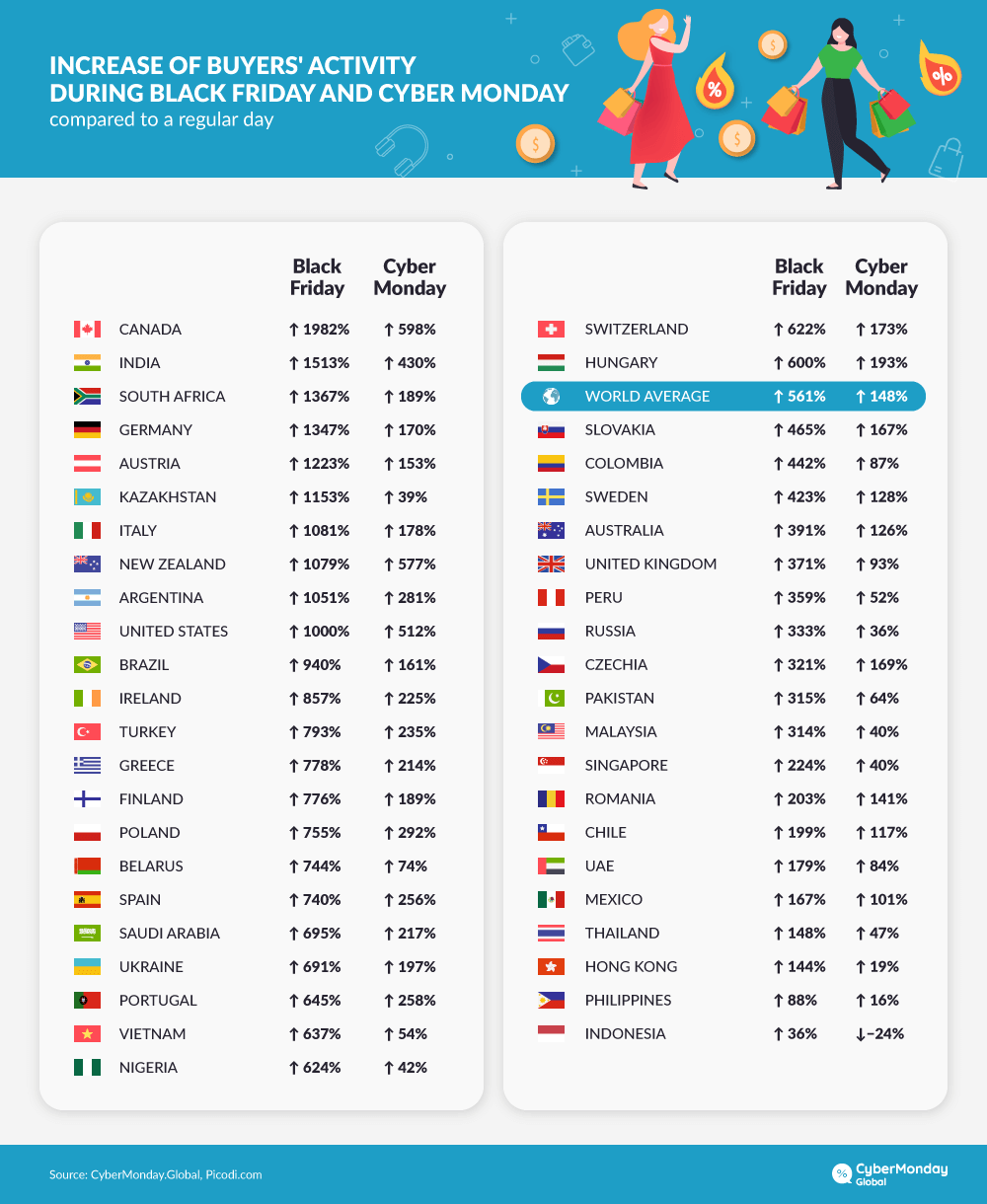 Internal data of CyberMonday.Global platform indicates that on the main day of Black Friday sales, the number of transactions was 561 percent higher than the annual average in 2021. On the other hand, on Cyber Monday the activity of shoppers was 148 percent higher than the annual average.
Did shops satisfy the clients?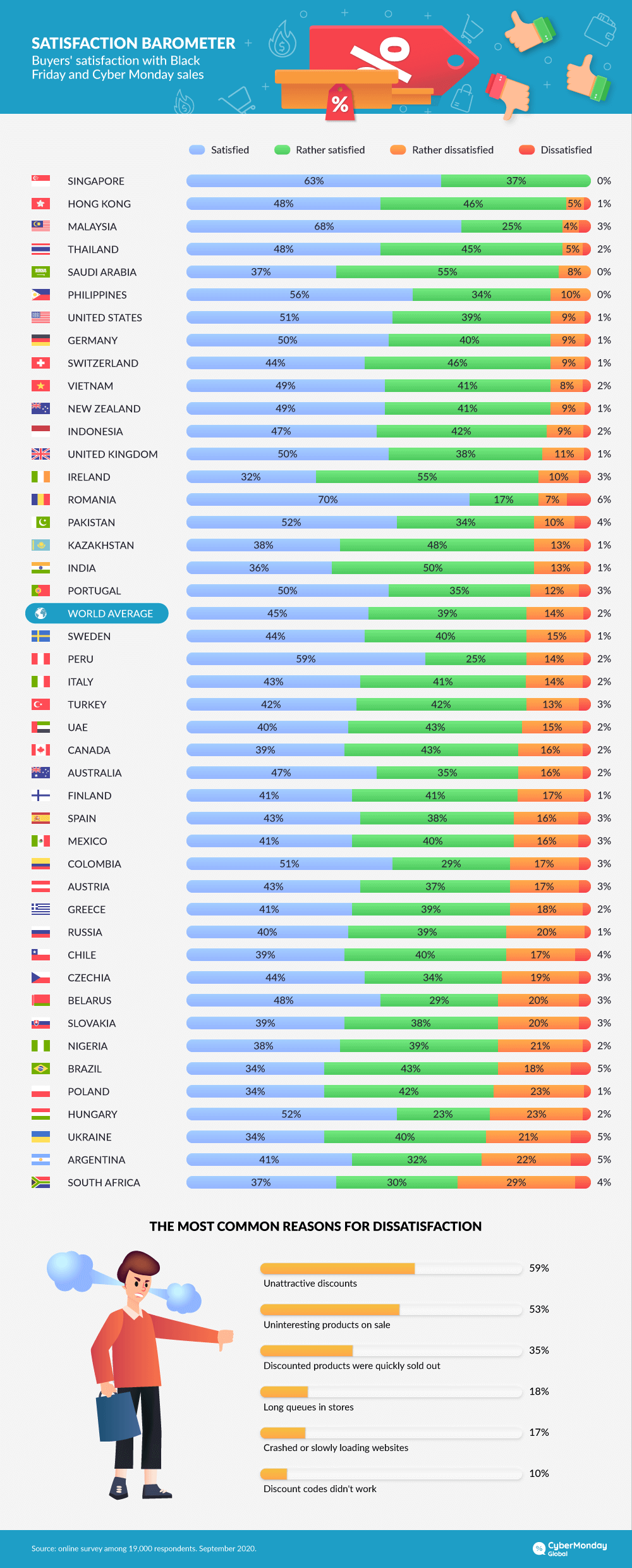 We asked 19 thousand Internet users in several dozens of countries about their opinion on November sales. 45 percent of surveyed people who took part in any of the analysed events were satisfied. 39 percent of consumers were rather satisfied. The proportion of unsatisfied consumers is quite low (14 percent rather unsatisfied and 2 percent unsatisfied). Hungarians, Argentinians, and South Africans were the most discontent about Black Friday and Cyber Monday.
How much money are shoppers willing to spend?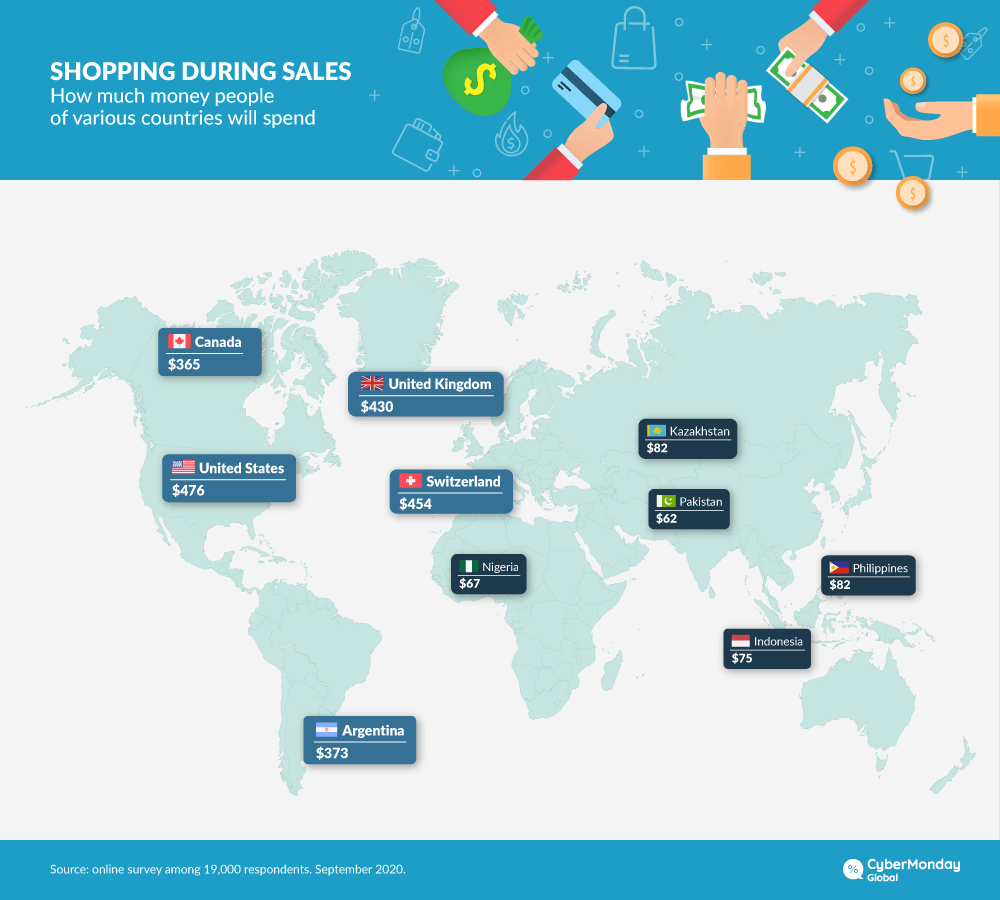 The survey conducted among citizens od 44 countries shows that Americans are the biggest spenders: they will spend $476 on average. Shoppers who are planning to spend similar amounts of money on sales come from Switzerland ($454) and the United Kingdom ($430). Pakistanis and Nigerians will spend the least — US$62 and US$67.
Methodology
All statistical data comes from Google Trends, Google Keyword Planner, and Picodi.com, a global discount platform operating since 2010, which created CyberMonday.Global, a site dedicated to Cyber Monday sales. The survey conducted in September 2023.among 19 thousand respondents from 44 countries were also used in the report. For currency conversion, we used the average exchange rate from Google Finance.
Public Use
Share information about Black Friday and Cyber Monday with your readers! All the data and infographics presented in this report can be freely used for both commercial and non-commercial purposes as long as you indicate the author of the research (CyberMonday.Global) with a link to this subpage.